Kissenschlacht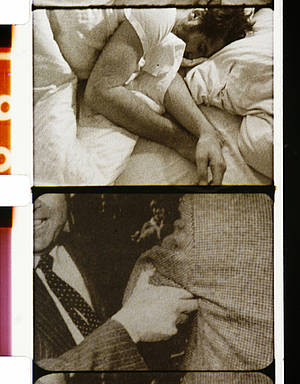 BRD 1985
16 min
s/w, Farbe
Ton
16mm
Sinnliche Gesten, Rituale in den Repräsentationsformen der Politik dringen in den intimen Raum ein.
FrauenFilmHandbuch. Verband der Filmarbeiterinnen, Berlin 1983.
Der Titel des Films beschreibt die Ambivalenz zwischen der Liebe im Privaten, Persönlichen und dem strukturellen Ausschluß der Frauen aus der öffentlichen Sphäre.
Kurzfilmtage Oberhausen, Filmeinführungen, 1986.
[…] der schlafenden Freund in den Falten der weißen Laken – Hände, Furchen, Arme, Nacken, Ohrmuscheln … schwarzweiß – dazwischen Bilder der öffentlichen Männer, Münder und Augen, erstarrte Gesten – dann wieder der private Mann, Knistern der Laken, atmen, farbige Details von Haut – der schlafende Mann wird erotisch & lebendig (paraphrasiert nach Renate Lippert, Frauen & Film 40).
Perthold, Sabine (Hg.): Rote Küsse. Film Schau Buch. Tübingen: konkursbuch Verlag Claudia Gehrke, 1990, S. 205.
Kissenschlacht (Pillow Fight)
Last week I went to the Northwest Film Forum's Wiggly World, a production facility for film people in Seattle, to use a 16mm editing table. I needed to look at a copy print of a 16mm movie I made 21 years ago. It was a little bit exiting. I did not use an editing table for nine years or since I live in America. In the 80s, I was very interested in experimental movies and created several myself which were shown at German and international Festivals.
This is a long time ago, and I gave up on film making for several reasons, so it was a surprise when I received a letter from Annette Brauerhoch from the University of Paderborn. She is a professor for film science and is putting together an archive and collection of experimental short movies by women filmmakers in Germany and wanted to include my movie in the selection. She saw one of my films – Kissenschlacht – 20 years ago on a festival and has it still in strong memory. I was surprised and touched and honored.
Interesting to look at the movie again: to see if the ideas I had twenty years ago are still of value or maybe just ridiculous. At that time, I was intrigued by newspaper pictures of politicians. I worked on that for my study at the University and analyzed body postures and structures of these photos. This went into a little 16 minute long movie . I "animated" these pictures and combined them with pictures I filmed of my sleeping boyfriend all aiming for one continuous movement. I was happy with the way it came out, although some may find it boring to look at a sleeping man and not much is happening.
At that time the movie was quite well perceived. It was accepted on festivals and often written about it:
"A masterpiece of the experimental storytelling . . . Ingrid Pape confirms with this calm and wordless study the 'sovereign' preciseness and musicality of her filmmaking."
– German film kritic Michael Koetz writing in the Frankfurter Rundschau, 1986.
While that was nice to read, the question is: Do I still understand and stand by what I did 21 years ago?
What I realize now is that very likely my intense studying of these pictures gave me a good base for my photography. My understanding of body postures in photographs, film and life goes into my work now.
The other thing that's satisfying to know is that the film will light up on a big screen again, projected from a celluloid film, will be shown to students and film scientists and not just sit in a dark box. It is still alive and not just a "sin of youth".
Ingrid Pape-Sheldon
https://pape-sheldon.blogspot.de/2007/04/kissenschlacht-pillow-fight.html
Festivals
Oberhausen 1986
Osnabrück 1986