Prof. Dr. Annette Brauerhoch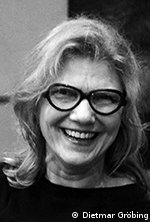 Annette Brauerhoch studied Communication Theory, English Literature, American Studies and Theatre-, Film- and Television Studies in Munich and Frankfurt. Her dissertation on "The Good and the Bad Mother – Melodrama and Horror" was published in 1996 (Schüren), her "habilitation" on "Fräuleins and GIs – History and Film History" in 2006 (Stroemfeld / Roter Stern). She worked as a film critic for several weekly and monthly journals (e.g. epd Film), and served as a jury member for various festivals (i.e. Oberhausen, Feminale Köln, Berlin). From 1989 to 1994 she participated as research fellow in two research projects within a large-scale research program at the University of Siegen on the Aesthetics, Pragmatics and History of Screen Media. As adjunct professor she taught film in Art Colleges and Universities in Germany, Switzerland and the Netherlands. Before assuming her present position as professor for Cinema and Television Studies at the University of Paderborn, Germany, she served as DAAD Associated Professor in the Department for Germanic Languages at Columbia University, New York (1998 – 2001).
Annette Brauerhoch is co-editor of Frauen und Film. Ongoing concerns in numerous articles on film history and theory are feminist film theory, genre, masculinities, acting, perception and materiality, cinema as social institution.
Publications | Selected Presentations | Research Projects | Teaching | Staff | Past Events | Links (in German)
Office Hours
By phone (registration via e-mail)